Last updated: October 01, 2015
Perry Kuklin
Whatever your business, if you have waiting lines, the look of your queue can support or detract from the personality of your brand. Consider the example of Dallas/Fort Worth (DFW) Airport. Committed to creating the "airport of the future," DFW puts a great deal of effort into creating a modern experience and impression. One of the ways the airport has reflected this brand image is by replacing its traditional retractable-belted stanchions with sleek, satin aluminum rigid rails and modern panel signage. What image are you seeking to portray? Consider the following queue styles:
1. Traditional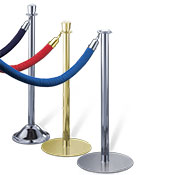 When you envision the queues at a theater or concert hall, these traditionally-styled crowd control posts and velvet ropes are probably what come to mind. While the swag ropes come in a variety of colors, and the stanchions themselves can be ordered in brass, stainless steel, or powder-coated finishes, the look of these queues has a very specific personality. They speak to grandeur and refinement, and act as a measure of polite crowd control.
2. Classic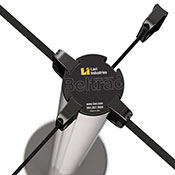 The retractable belt stanchion combination is one of the most versatile queuing options. Businesses that find themselves reorganizing a queue at the last-minute or attempting to create shortcuts for patrons when the lines aren'tso long will find much to love about retractable belt stanchions which allow for a quick change in queue configuration. Any business that relies on queuing systems to do double- or triple-duty can use stanchions as a foundation for front-end signage or in-queue merchandising. The belts themselves can be imprinted with full-color art or a branding theme, further reinforcing the message you want to send to customers. Brands that present themselves as a place of convenience or necessity (for example, the DMV or certain retail environments) may find the classic queuing look appropriate for their needs and more supportive of their flexible, everyman branding than a sophisticated or modern look.
3. Modern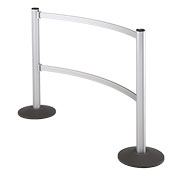 Rigid rails have a defined personality, and the most modern of businesses will find themselves drawn to this polished and cutting-edge queue design. Rigid rails offer a unique and contemporary structural look – they can be either curved or straight – but they're incredibly sturdy too. They provide a clean, sleek design while also carrying out other jobs, like serving as a structure for signage and advertising. Businesses that promote their brand as streamlined, efficient, and innovative may find that a rigid rail system corresponds with their overall identity.
4. Minimalist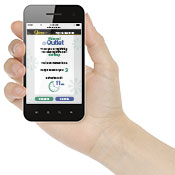 When you have no visible queue to speak of – or when your brand is screaming to eliminate the queue entirely from your place of business – then you have a very attractive option: the virtual queue. For businesses that don't have the room for a queue, or that feel their floor space is better served offering seating or more shopping options for waiting customers, the virtual queue gets the job done. The virtual queue supports a "we want to make this easy for you" brand, and it also helps support a brand that's looking to uniquely redefine itself in its customers' eyes. Most any queue can get the job done in guiding people and keeping them safe – but it's your queue's appearance as well as function that can take your brand and business to the next level. How well do your queues support your brand personality?