Last updated: November 26, 2012
Perry Kuklin
When it comes to crowd control stanchions customers often feel they must decide between floor-drilled stanchions or a completely portable option. Nothing in between. Now you can have the best of both worlds with our magnetic stanchion base system.
Permanent-Like Stanchion Benefits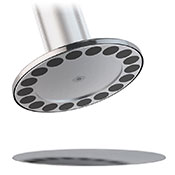 No need to resign yourself to stanchions that are permanently drilled into place, preventing quick changes in configurations. Nor are you limited to stanchions that have a heavy base but are nevertheless susceptible to being tipped, slipped, or bumped out of place. When you need more security and control over your queues – without being married to one and only one configuration – the magnetic base offers an ideal compromise for retail stores, arenas, airports, and any high-traffic venue that requires sturdy stanchions with flexibility. Our magnetic stanchion base system has stainless steel floor plates that attach to the floor with either a center bolt or adhesive option. But, unlike permanent stanchions, posts do not need to be bolted down. The magnetic post base attaches firmly to the steel plates. That means that even under the most crowded, pushy, heavy conditions, stanchions will remain upright, guests will remain safe, and your crowd control and queuing configurations will remain intact.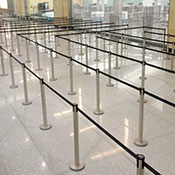 Should you wish to change up a waiting line, make it shorter or longer or reconfigure it entirely, the posts can be tilted to one side, releasing them from the floor plates and allowing them to be removed and stored away or positioned elsewhere. The floor plates require a small footprint, and their contemporary look will blend with practically every interior design so that, when not in use, they remain unobtrusive and merely a part of the décor, if they're noticed at all.
No Need to Buy New Stanchions
The new magnetic base system is compatible with our Beltrac 3000 Series and Beltrac Contempo retractable belt stanchions. The magnetic base system is truly a win-win. See what you think! Talk to a Lavi expert to learn more about magnet base stanchion systems.